At Mecademic we design and manufacture the world's smallest, most precise, and easy-to-use industrial robot arms to automate precision tasks and delicate manipulations. Mecademic offers a new generation of robots that features simplicity, flexibility, and optimal performance. All our robots are plug & work automation components with a tiny footprint and low overall cost, and are easy to integrate and operate. Our products are designed, manufactured, and assembled in Montreal, Canada, using the industry's highest quality components.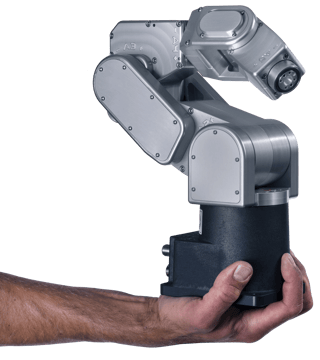 Meca500 Six-Axis Industrial Robot Arm
What makes the Meca500 industrial robotic arm unique? Unlike most other industrial robots—which are usually complex stand-alone systems—the Meca500 is a plug-and-work automation component. Our robot is a slave component rather than a master, which makes it very easy to integrate via any computer or PLC. The Meca500 doesn't require any training courses, software installations, or additional option purchases. It's that simple!