Solutions with Technology and Innovation
KNOTTS SERVICES address the efficiency and effectiveness of your procurement, inbound logistics and operational processes. Free up valuable resources to focus on more pressing strategic issues that will enhance your bottom line.
Total Cost and Acquisition Analysis
Co-Engineered Solutions & Systems
Modified & Standard Component Sub-Assemblies
Kitting & Packaging Solutions
Control Panel Assembly
Machine Frames & Guarding
Software & Programming Support
Training Classes Covering a Full Range of Technologies & Products
Technical Support With Documentation & CAD Drawings
Customer Specific Inventory Plans
Demonstration Services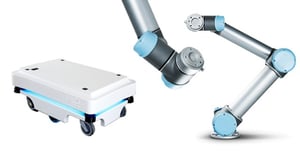 The Knotts Company is offering MiR (Mobile Industrial Robots) and UR (Universal Robots) on-site demonstrations. Click the link below to request one.
**Please note that you must be in our NJ/NY territory and have an application in mind.

Manufacturer Process Audits
We can have a representative come to your facility to review if you have any manual or repetitive steps that could easily be alleviated with the assistance of robots.
Design, Selection, and Programming Services
Whether you need a complete turnkey system, just assistance in reprogramming existing equipment, we can deliver high quality service quickly at convenient and economical rates.
Kitting Services
We can prepare a ready-to-assemble kit for your pneumatic or electric panel. Kit components are numbered to your specifications to make your assembly project a snap. We can also inventory and ship to fulfill your requirements.
Pneumatic Solutions
Pneumatic solutions includes the following:
Pneumatic Sub-assemblies
Custom Manifolds
Control panels
Customer Valve assemblies
Product Integration
Our newest service includes product integration to complete a new process or automate an existing process. We apply our knowledge and components to offer a complete automated solution.