Yamaha offers a wide array of robotics and automation solutions


Articulated Robots YA Series
Linear Conveyor Modules
Stepping Motor Single Axis Robots
Single Axis Robots
Single Axis Robots GX Series
Linear Motor Single Axis Robots
Cartesian Robots
SCARA Robots
Controllers
Universal Controller YHX Series
Pick & Place Robots
Clean Robots
Motor-Driven Actuators YLE Series
Electric Grippers
Integrated Robot Vision System

Find Yamaha's product catalog downloads here.
SCARA Robots

SCARA robot, the most distinctive feature of which is a completely beltless structure. As the tip rotation axis is directly connected to the speed reduction gear, this achieves the overwhelming high-rigidity, high-speed, and high-accuracy.
This robot is used in a wide variety of processes and applications, such as production equipment for electrical and electronic components, and small precision machine components requiring the precise assembly, and assembly, handling, and transfer of large automotive components.

Linear Motor Actuators
Yamaha developed this linear motor actuator to respond to the long-stroke, high-speed, and high-precision requirements as the manufacture equipment is made larger and the speed of the transfer equipment inside the factory is made faster.
As various tip tools are attached, this actuator can be used in a wide variety of applications, such as assembly including screw tightening of electric and electronic components or mechanical components, insertion, take-out, transfer, adhesive application, and soldering.
Single Axis Robots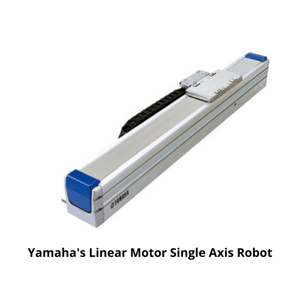 An electric actuator that is composed of an AC servomotor, a base, ball screw, belt, and linear guide. This electric actuator is a general purpose robot that can be used in a wide variety of applications, such as assembly and inspection.
The electric actuator utilizes highly rigid ball screw and guide, and uses resolver with excellent environment resistance for the position detector.
Cartesian Robots
Yamaha offers a full lineup of Cartesian robots that come with just the right performance and size to match user needs & ideal for diverse spectrum of job tasks.

An electric actuator composed of 2 to 6 slide axes that are orthogonal to one another.

Enhanced arm variations and functionalities ranging from a compact and low price arm to an arm applicable to the heavy object transfer and long distance transfer are available to respond to a wide variety of the customers' needs.
The electric actuators can be used in a wide variety of applications, such as assembly, machining, insertion, take-out, handling, and packaging of small precision machine components, automotive components, and electronic components for board mounting.
Integrated Robot Vision System
Yamaha's own unique solution for integrated robot vision.

Supported controllers : RCX320・RCX340
Number of screen pixels : 400,000 pixels / 1,600,000 pixels / 3,200,000 pixels / 5,000,000 pixels
Model setting capacity : 254 models

Latest features include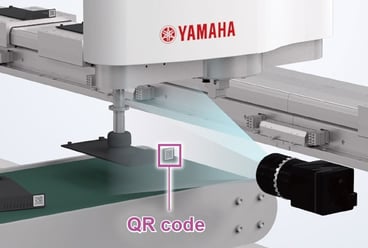 Increased application features:

Picking of irregular shape workpieces
Presense inspection
Multiple piece count

Enhanced performance

CPU capability increased to improve search speed 8 to 45%
Number of pixels increased
Frame rate increased

Easy operation

Supports template function of RCX-Studio 2020