Vaccon products are installed in thousands of industrial vacuum applications around the world. From packaging to robotics to semiconductors, Vaccon's innovative solutions have increased productivity and lowered costs everywhere they are used.
All Vaccon pumps are designed to operate in most any environment without filters and never lose suction. Their simple, no-moving-parts design means they never wear out, never clog, and their completely maintenance-free operation provides high productivity. We will modify any standard product or provide a custom design if an off-the-shelf product does not meet your requirements -- in any quantity.
Vaccon's ISO 9001:2008 certification demonstrates our commitment to quality, providing customers with innovative, reliable products, superior customer service and technical support.
PRODUCTS:
Venturi Vacuum Pumps (VP, RTM & J Series)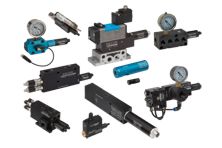 Vaccon's air-powered venturi vacuum pumps are highly efficient, capable of reaching 28"Hg [948mbar], dirt tolerant, and include a silencer for quiet operation. Lightweight and compact, they can be easily mounted close to the vacuum point for fast response.

All Mid Series pumps incorporate Vaccon's interchangeable venturi cartridge system that allows designers to choose from 11 different cartridge assemblies to optimize pump performance to meet their specific application needs.

By nature, vacuum pumps draw in the atmosphere in which they operate in. Any debris, dirt and/or dust in the air will be drawn through the pump. Whether your application is carton erecting, pet food bagging, sheet feeding, or any other application, Vaccon pumps operate continuously without maintenance or vacuum filters that can clog, degrade performance, cause downtime and increase costs.
Venturi Vacuum Cartridges (C Series)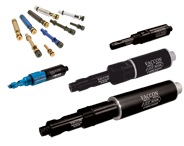 Venturi Vacuum Cartridges are used on Modular Venturi Vacuum Pumps. Stand-alone cartridges are used in field interchanges and are ideal in many OEM applications.
Vaccon's Venturi Vacuum Cartridges are the heart of the Modular Venturi Vacuum Pump. These cartridges are ideal for OEM's requiring custom vacuum applications. Vaccon's Venturi Vacuum Cartridges are available as Push-in, or Threaded types.

Vaccon's Threaded Venturi Vacuum Cartridges come in two types: OEM or RTM Series™. OEM cartridges are designed to fit into custom threaded OEM cavities, providing a proprietary vacuum source. They come in 23 different performance levels, standard with removable silencers and available with standard imperial or metric threads. The RTM Series threaded cartridges are designed replace clogged multi-stage cartridges. The RTM cartridges directly thread into multi-stage pumps,
quickly replacing failed cartridges, saving time and money.
Variable Flow Venturi Vacuum Pumps (VDF Series)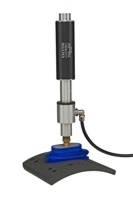 The VDF Series is a unique Vaccon innovation that places the vacuum port and exhaust path inline making a straight-through venturi vacuum pump. These compact pumps offer high flow rates up to 120 SCFM [3400 LPM] and high vacuum levels up to 25"Hg [847mbar].

Developed for extremely dirty and dusty environments such as foundries, refractory and bagging operations, VDF pumps don't clog, lose suction or require a vacuum filter.

Standard VDF pumps are field-adjustable allowing you to regulate the vacuum flow and vacuum level to meet your application requirements. This maximizes energy efficiency by consuming only the compressed air necessary to do the job. A pressure regulator is not required as the pump can be tuned to operate at any pressure above 50 PSI [3.5 bar].
Adjustable Air Amplifiers / Blowers (CDF Series)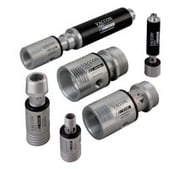 Vaccon Air Amplifiers easily and safely handle porous objects that many consider too challenging to handle with vacuum. Vaccon air amplifiers are field-adjustable to meet your process or product specifications. With its inline, straight through design – dirt and debris pass right through, there's no clogging, no downtime.
Material Conveying Pumps (DF Series)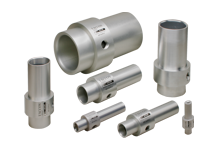 The DF Series of high flow material conveying vacuum pumps provide a simple, reliable and cost effective method of in-line transfer of bulk materials, complex shapes, individual objects, selvedge.

The DF pump's unique capability to create instantaneous vacuum flow and high air velocity, combined with its straight-through, smooth bore design allows material to pass directly through the pump at high speeds without interference or clogging.

Simply regulate the input pressure to adjust and control the transfer speed. For maximum efficiency, the compact design allows close placement to the work area. DF Series material conveying pumps are made of anodized aluminum and available in 17 standard models with inside diameters from 1/8" [6mm] to 4" [100mm].
Vacuum Cups & Fittings / Vacuum Pencil Kit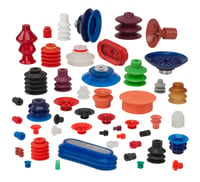 Vaccon offers a wide range of vacuum cup styles and sizes. Fittings in multiple styles are also available individually or as a cup assembly. Cups are available in various durometers, colors and materials.

As is true in most vacuum applications, there is more than one correct answer. Depending on your application, sizing a vacuum cup and pump may require some trial and error. This is why Vaccon offers a 30 Day Test & Evaluation program. If you don't have the time or resources to test products yourself, we recommend that you send us a sample of the product and we will size the cup and/or pump for you. With our in-house video studio, we can email short videos and/or digital photos of the product in action with the properly selected vacuum cup and pump..
End-Of-Arm Tooling Components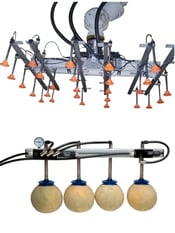 Vaccon's modular End-of-Arm Tooling (EOAT) components offer everything you need to create a complete "wrist-down" EOAT for your material handling operations:

Separate EOAT Components: Build your own tooling with simple erector-set connectivity.

Vaccon Designed, Built & Tested: Out-of-the-Box Complete EOAT solutions
Integrate vacuum pumps, suction cups, spring levelers, fittings, and manifolds
Modular, lightweight, compact components

Less stress on robot – Faster speeds – Longer life cycle

T-Slot fraction or metric compatible components
Pre-designed modular components – Minimal design time
Easy set-up, simple connections and fast installation
Cost effective – Integrates with existing plant equipment for quick tool changes, minimal downtime
Interested in a Vaccon product?