Established in 1975, Pneumadyne was developed out of the industry's need for a better miniature pneumatic valve. Thirty years later, They are known as a leader in the design, development, manufacture and integration of fluid handling devices. Pneumadyne, Inc. is your source for pneumatic control valves, solenoid valves, fittings, manifolds, custom products, tubing and more.
Pneumatic Solenoid Valves
Solenoid valves are an efficient method of converting electrical signals into pneumatic functions. Applying electricity to the solenoid quickly directs air through the valve and into the circuit. Pneumadyne's direct acting solenoid valves are a cost effective, space saving solution for the use of single or multiple valves. Our versatile offering features a variety of voltage, wattage, connector and mounting options to ease valve selection and installation. Fast response times and high flow rates make our valves suitable for numerous applications.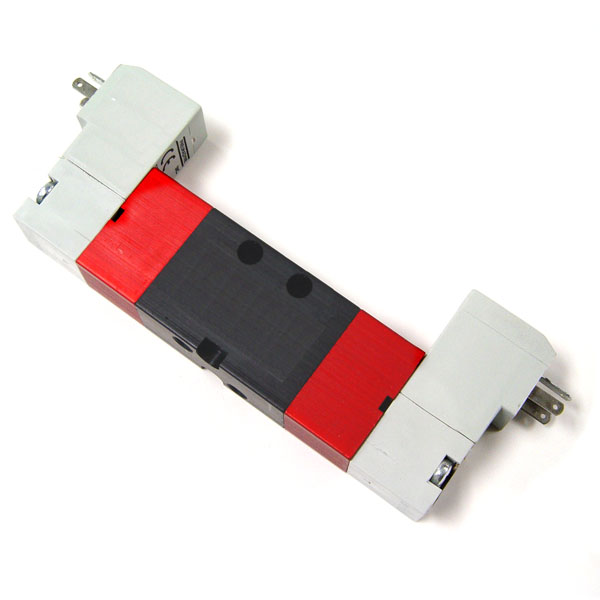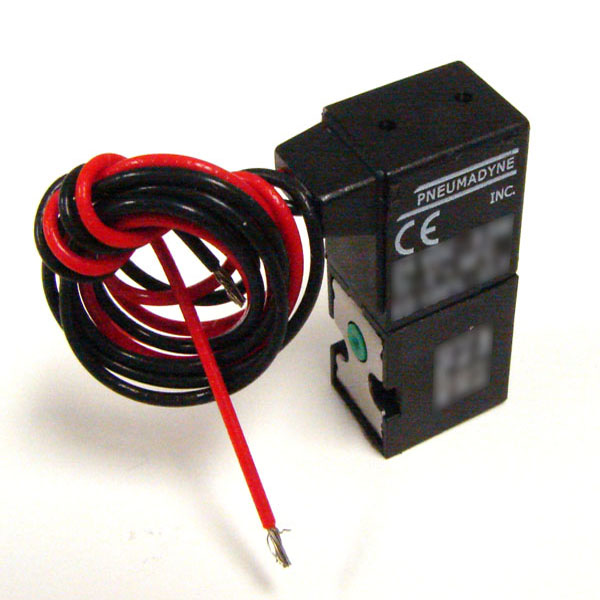 Pneumatic Control Valves
Control valves are a fundamental component of any pneumatic system. Selecting the right directional valves to control system pressure, direction of flow and rate of flow is crucial when designing fluid power circuitry. If the valve is too big for your application, you will be wasting air and money. If it's too small, the actuator will not function properly.
Variety of porting options for plumbing convenience
Numerous configurations for added versatility
Flow rates range from 2.90 to 57 scfm at 125 psi
Poppet or spool designs
Operating pressures from 26" Hg to 150 psi
Miniature size is ideal for limited space applications
Colored nylon actuators for easy identification
Long product life
Plated for corrosion resistance
Pneumatic Fittings
Fittings provide the essential link between components in any pneumatic system. Pneumadyne's extensive offering of miniature pneumatic fittings accommodates numerous connector and tubing requirements.
Variety of sizes and configurations
Electroless nickel plated for corrosion resistance
Precision machined brass & stainless steel
Barb, threaded & push-to-connect styles
Captured o-ring design for superior seal
Pneumatic Manifolds
Pneumatic manifolds provide a convenient junction point for the distribution of fluids or gases. Simply thread pneumatic fittings into the ports of the distribution block to produce an organized method of supplying multiple lines from a single source.
Pneumadyne has been an innovator in the design and manufacture of pneumatic & hydraulic manifolds since 1976. We offer a wide selection of styles and sizes to ensure that your plumbing and installation requirements are met.
2 to 10 stations
Variety of sizes & configurations
Aluminum, Brass, Stainless Steel, Polypropylene & Nylon materials
Aluminum is black anodized for corrosion resistance
Precision machined
Custom Pneumatic Solutions
Providing fluid handling solutions that meet our customers' defined performance requirements has been a priority since Pneumadyne's inception, setting us apart in the miniature pneumatics industry. Our experienced engineers welcome the opportunity to assist in the design and manufacture of pneumatic control systems and custom directional control valves fittings manifolds. Whether you need standard pneumatic components or custom pneumatic products, we take the time to understand your application and recommend components and systems that best fit your requirements.