Acro Associates is a wholly-owned subsidiary of Bimba Manufacturing Corporation that designs and manufactures innovative pinch valves and fluid control components for the medical, bioprocessing and industrial markets. Our solutions enable engineers who are designing fluid based systems the ability to precisely control, monitor and receive feedback to ensure optimum performance in their applications.
Pneumatic Pinch Valves
Designed for bioprocessing and industrial applications, these models output very strong linear forces when larger tubing or fluid volumes are being displaced. Ideal for pharmaceutical manufacturing systems, Single-Use Disposable applications, food and beverage manufacturing where GMP standards are employed.
When working with harder or larger diameter tubing that requires stronger pinch forces, then our pneumatic product line delivers. Designed for biopharmaceutical processing, food and beverage, and industrial applications where sterility and wash down procedures are needed, these robust units offer reliability and performance. Each model is designed for disposable tubing and contains an easy snap-in tube slot for quick loading and unloading procedures. Panel or base mountable, units can also be configured with optional state sensors, controllers, or setup in normally-open or normally-closed default states. Optional safety caps on larger models are also available to address finger crushing hazards.
Features/Benefits
Compact design with user selectable tubing (up to 75 Shore A)
Base or Panel mount ready with snap in tubing slot
Optional valve state detection sensors
Optional 3 or 4-way controllers for pressure venting between states
Panel splash seals for wash down procedures
Manual overrides on model 932 & 933
Offered in Black Anodized Aluminum or 316L stainless steel
Industry best warranty for 2 years
| | |
| --- | --- |
| Model 932 | Model 936 |
| | |
State of the Art Versagrip Solenoid Pinch Valves
The new Versagrip solenoid pinch valve product line offers flexibility and affordability from a wide selection of models and configurations. Each model allows you to select your own variety of tube or disposable bag material type using up to an average of 60-Shore A durometer, and up to 15 psi media pressure. Our patent pending valve design allows for easy tube loading, unloading and securely holding in place during valve actuation. A manual push button override, solenoid controller and optical digital position feedback sensor are also available on all applicable versions.
Features:
Supports average tubing durometer up to 60 Shore A and 15 psi/1 bar media pressure
Compact design with low operational noise
Average actuation speeds of 80 milliseconds or less without tube loaded
Seals prevent liquid penetration supporting easy cleaning or sterilization procedures
3 million MTBF* or 18 month warranty
ROHS2 compliant
Pending UL429, CSA139 and CE 60601-1 Third edition certifications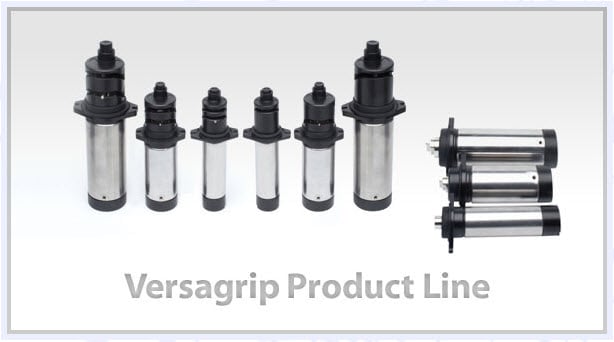 Have an Acro Application in Mind?