DIN Rail Terminal Blocks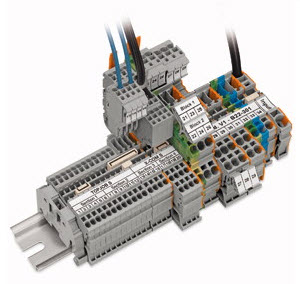 DIN rail terminal blocks were forever changed when WAGO introduced its patented CAGE CLAMP® spring pressure termination technology in 1977. This reduced wiring time by up to 50%, while delivering a reliable, maintenance free connection independent of operator skill. The success of this innovation led to further developments such as CAGE CLAMP® Compact, FIT CLAMP®, POWER CAGE CLAMP, and TOPJOB®S with CAGE CLAMP®S.
CAGE CLAMP® Classic

WAGO's broadest range of top and side entry DIN rail terminal blocks, the CAGE CLAMP

®

Classic, with the original CAGE CLAMP

®

, also offers the widest selection of wire sizes for solid, stranded and ferruled conductors.

CAGE CLAMP® Compact

As its name implies, the top entry CAGE CLAMP

®

Compact is a focused offering that meets the need of space constrained applications for a limited range of solid, stranded, and ferruled conductors.

Click Here to learn more about CAGE CLAMP

®




FIT CLAMP®


Incorporating insulation displacement connection (IDC) technology, top entry FIT CLAMP

®

also offers hybrid versions with CAGE CLAMP

®

.




POWER CAGE CLAMP

POWER CAGE CLAMP side entry terminal blocks were designed for high current applications requiring larger solid, stranded, or ferruled conductors.

TOPJOB®S


WAGO's latest and expanding range of top entry terminal blocks. TOPJOB

®

S, with CAGE CLAMP

®

S, offers all the benefits of the original CAGE CLAMP

®

, including screwdriver termination of stranded conductors, with the added benefit of directly inserting solid or ferruled conductors.

Rounding out the product line are the matrix/patch system and the shield connection system. In addition, a full line of accessories such as jumpers, test plugs, marking, etc. are available for each product family. Just like the original CAGE CLAMP

®

concept, these accessories increase the overall reliability, throughput and safety of your electrical equipment.

The industry changing TOPJOB® S rail mount terminal block series with push-button actuation now expands with new disconnect/test, fuse and pluggable modules variants for added functionality. These new additions feature the same industry proven Push-in CAGE CLAMP® technology used throughout the TOPJOB® S Series.

Click Here to learn more about TOPJOB®
Pluggable Rail-Mounted Terminal Block Systems
X Good Reasons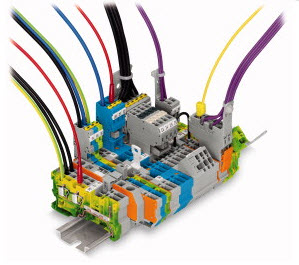 X-COM® and X-COM® S, as well as X-COM® S MINI pluggable rail-mount terminal blocks are the modular system for time- and cost-saving system wiring. X-COM® systems are ideal for system wiring especially in switchgear and control applications (e.g., railway technology).
The pre-assembled and pluggable X-COM®and X-COM®S systems offer X good reasons for using them:On the one hand, connectors can be pre-assembled independently of the final assembly and pre-assembled groups can be tested before assembly. On the other hand, components can be quickly and reliably replaced via 100% mismating and touch-proof protection. This not only saves time and money, but also allows assembly by non-specialists. Even components that are not mounted on a DIN 35 carrier rail can be easily incorporated into the system wiring via X-COM®.
X-COM® – WAGO's wide range of pluggable rail-mounted terminal blocks equipped with the proven CAGE CLAMP® connection.
X-COM® S – Benefit from a much more compact design, as well as CAGE CLAMP® S connection for push-in termination of solid or ferruled conductors.
More Highlights:

Conductor connection up to 4 mm² (AWG 12) at 32 A
Wire connection up to 1.5 mm² (16 AWG) with a terminal block width of only 3.5 mm (0.137 in.)(X-COM®S-MINI, 2020 Series)
Coding prevents errors
Mechanical protection via locking levers, strain relief plates and housings
Can be combined and commoned with the TOPJOB® S rail-mounted terminal block system
Dual jumper slots for various commoning options
Versatile, large-area marking options for even better
Need a Quote on Wago Products?