The plan is set and the product is nearing completion. Suddenly the request for a reliable marking system is brought up. How often do you find yourself lost in a jungle of many manufacturers - especially true of printers, plotters or engravers?
With perfectly-attuned hardware and software, WAGO offers high-performance marking solutions, both for its own labels and cable markers, as well as those from our competitors.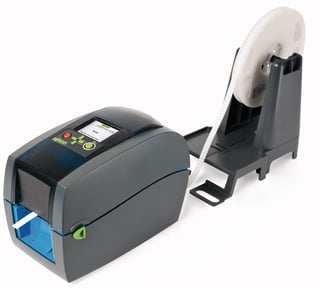 Rail-mounted terminal blocks with a rated cross section of 2.5/4mm2 are the most common in the field. WAGO WMB Inline is a revolutionary marking system that offers significant time and cost saving benefits for all WAGO rail-mounted terminal blocks designed to accept this wire range.
Individual markers designed in chain link format with extendable pitch are available on a continuous reel of 1,500 markers. A thermal transfer printer guarantees permanent and smudge-proof printing with no installation time required.
Generation of the marking data can be performed via appropriate WAGO software. smartDESIGNER generates the marking data automatically for configuring rail assembly and provides it for output on the thermal transfer printer. Marking data can also be directly generated via smartSCRIPT. T
he WMB Inline marker strip can be snapped onto the rail-mounted terminal blocks in a quick and cost effective way. Individual WMB Inline markers are used for larger terminal blocks. In addition to plain markers, standard printed markers will also be available upon request. In preparation: WMB Inline with 6mm/6.2mm pitch.
Marking Accessories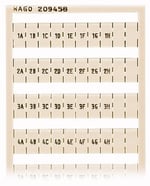 WMB Inline, marking strips and cards, markers from a reel, etc.