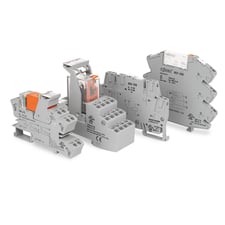 Relays and optocouplers are used everywhere where electrical signals must be transmitted and galvanic isolation, level adjustment or amplification are required. They are suitable for all industrial applications: process and power technology, rail vehicles, shipbuilding, as well as control cabinet applications.


Benefits of WAGO relays and optocouplers:
Easy termination of conductors from 0.34 mm² to 2.5 mm² (22-12 AWG)
Optimized for any application
Wide range of accessories (e.g., adjacent jumpers, marking material)
Switchable loads from 1mA to 16A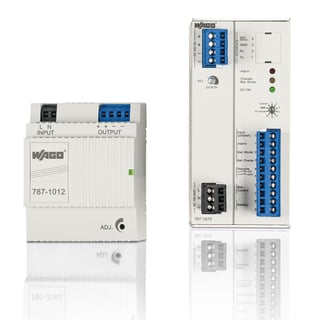 Power supplies for every industrial application: Like many other customers, fall back on reliable power supplies that won't let you down in critical situations – the EPSITRON®® Series 787 power unit.
The efficient power supplies from WAGO always deliver a constant supply voltage – no matter whether for simple applications or for automation with greater power requirements.
The advantages of the versatile Series 787 power units:
Switched-mode power supplies for carrier rail
Output voltages of 5 - 48 VDC
Output power of 24 - 960 W
1- and 3-phase power supply units
Globally approved for use in various applications
Complete power supply system thanks to system devices such as UPS, electronic circuit breakers and redundancy modules
Power supply for maximum system availability
The power supply units are perfectly suited for industrial use and in addition to various output voltages and nominal output currents, are available with optional metal enclosures, pluggable connection technology for pre-wiring, various overload behaviors and high efficiency.
For high availability and efficiency, the power supplies have an additional output current: In the event of a short circuit, power supply units with the TopBoost function provide a multiple of the rated current, which allows cost-effective protection on the secondary side using miniature circuit-breakers or safety fuses. Power supplies with PowerBoost function deliver double the output current at 24 VDC for several seconds. That makes it possible to start large loads, thus eliminating costly oversizing of switched-mode
power supplies
. Some devices even offer a monitoring function and display.
Power supplies with worldwide approvals
Perfectly suited for worldwide use, the power supplies have GL approval for marine use and ATEX approval for Zone 2 hazardous environments apart from traditional approvals.
Uninterruptible power supplies (UPS), buffer modules, redundancy modules and a wide range of electronic circuit breakers are available as an ideal addition to your system.