The WAGO-I/O-SYSTEM is a flexible fieldbus-independent solution for decentralized automation tasks. With the relay, function and interface modules, as well as overvoltage protection, WAGO provides a suitable interface for any application.
Flexibility and freedom in planning are the major advantages of modular and fieldbus-independent devices used for decentralized automation. WAGO presented a fieldbus system in this sector as early as 1995 with which fieldbus nodes could be precisely matched to fit a specific application based on the building block principle. Since then, we have continued to expand and further develop this system.
I/O systems, interface modules, power supply and surge protection systems from WAGO are employed when the demand is for high performance and 100% safety and reliability, such as in industry, in process engineering, in building automation and, of course, in all safety-related and hazardous areas.
WAGO's AUTOMATION division provides solutions that are based on both fieldbus and spring pressure termination technologies, as well as interface modules for the industry, process technology and building systems sectors.
Modular WAGO-I/O-SYSTEM, IP 20 (750/753 Series)
Fine modularity and fieldbus-independence are hallmarks of the WAGO-I/O-SYSTEM, which boasts worldwide approvals for a diverse range of applications.

Designed to Meet Practical Requirements
I/O modules with pluggable connectors (753 Series)
Fine granularity: I/O module accommodates 1, 2, 4, 8 or 16 channels
Fieldbus-independent: Fieldbus couplers/controllers for the most common fieldbus protocols and industrial ETHERNET standards
A sound investment: Fieldbus-independent node design easily accommodates new bus standards while retaining the I/O modules
Clear identification: Color-coded group marker carriers and WAGO WSB markers for clamping units
Scalable performance: With economy and standard couplers, as well as programmable controllers on through to the PFC200
High-performance: Controllers for distributed control networks per IEC 61131-3
Highly flexible: Configuration possibilities for digital and analog input/output modules, as well as specialty modules with different potentials, powers and signals in a single fieldbus node
Dependable: Approved for industrial, building and marine automation, as well as onshore/offshore and mining applications – serves a wide array of applications – even under the most severe operating conditions
Automatic connection of power jumper contacts and data contacts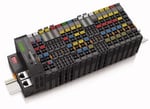 We automate where others capitulate: The WAGO-I/O-SYSTEM 750 XTR not only stands out in extreme temperature environments of -40 °C to +70 °C. Its high impulse-voltage withstand also makes XTR the efficient and reliable solution for energy and process technologies.
XTR – is our abbreviation for extreme protection against climatic influences, vibration, impacts and surge voltages. These conditions occur primarily in places in which technology is exposed to weather conditions, for example in the sector of renewable energy sources such as wind power, photovoltaic plants or in transformer stations. The automation systems used in these sectors often require additional and expensive protection features to "defy" the climatic and mechanical forces at work on them.
Modular WAGO-I/O-SYSTEM, IP67, SPEEDWAY (767 Series)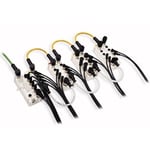 Where previously discrete wiring was once required, fieldbuses now provide communication between control unit, system and machine. Depending on equipment type, cabinet-free automation systems help minimize costs for planning, start-up, and servicing. To continue leading the way, WAGO has throttled its modular SPEEDWAY 767 I/O-System, boosting the performance of IP67-rated components.
Ethernet Switches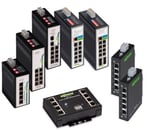 The range of WAGO Switches ensures scalability of your network infrastructure with outstanding electrical and mechanical characteristics.
WAGO's switches have robust enclosures and are designed for industrial use in compliance with IEEE802.3, 802.3u and 802 3z. Depending on the version, they feature function monitoring and redundant power supply with a supply voltage range of 9–48 V and 12–60 V. Alarm functions are enabled via DIP switch, again, depending on the version. Features such as auto-negotiation and auto-MDI/MDIX (crossover) on all 10/100/1000 BaseT ports are also realized, as is a wide ambient temperature range from -40 °C to +70 °C.
Ethernet Gateway (WEG)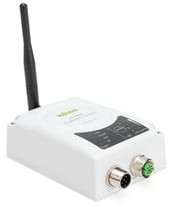 The WEG is equipped with an external omnidirectional antenna providing more flexible mounting options for optimal wireless connectivity. Similar to the original WEG, it can be configured to communicate via Bluetooth 4.0 or Wireless LAN at 2.4Ghz or 5GHZ; and multiple communication configurations further increase the WAGO WEG's versatility for your application.