NSR-PG-10-20-URe Precision Gripper / Caliper for Universal Robots (UR)
The first automatic caliper for cobots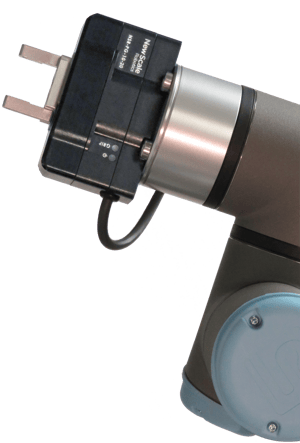 The NSR-PG-10-20-URe is an easy-to-use, plug-and-produce gripper. It is the perfect fit for precision measurement inspection and small part handling, sorting and assembly tasks.
The gripper continuously senses the absolute position of its fingers with 2.5 µm (0.1 inches/1000) resolution on e-Series cobots. You can automate inspection and gauging, make in-process decisions, and log the data for statistical process control.
NSR-MTM-3-URe Multi-Tool Mount System for e-Series Universal Robots (UR)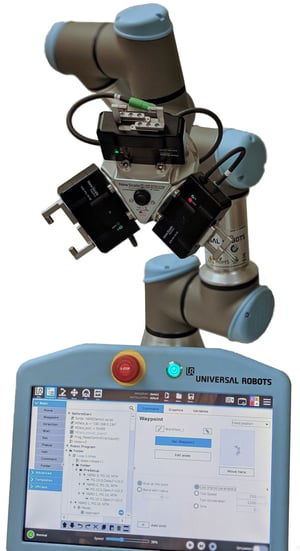 Mount and control up to three tools as easily as one, to multiply throughput and productivity.
Software – NSR Devices URCaps Application
NSR Devices is the new URCaps plugin for e-Series solutions from New Scale Robotics. Quickly add multiple tools to the single user interface, build device processes with a few clicks, and run complex automation or metrology programs with ease.
Hardware – MTM Tool Mount
Mount the MTM hardware to the robot arm with four screws and one cable. Add tools to the MTM tool using the same standard interface. Change tools as needed.
Productivity Solution
The MTM System lets you perform multiple processes with one robot, requiring fewer large moves.