MiR100 is for smaller transport tasks within the industry, logistics and healthcare.
MiR100 increases the operational efficiency of transport tasks. Employee resources may be released by the reduction of manual transport, and the delivery times can be reduced.
MiR100 belongs to the new advanced mobile robots. It requires no structural changes of the building, wires in the floor or sensors in the ceiling. The design allows agile driving through doorways as well as in and out of lifts.
MiR
200

™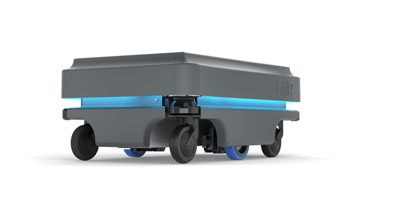 The MiR200™ is a safe, cost-effective mobile robot that quickly automates your internal transportation and logistics. The robot optimizes workflows, freeing staff resources so you can increase productivity and reduce costs.
Automate transport tasks and focus on higher value activities
A new generation of autonomous mobile robots is changing the way businesses move materials inside their facilities—and the MiR200 is leading the charge. With extraordinary flexibility and smart technology, the MiR200 can be used in nearly any situation where employees are spending time pushing carts or making deliveries. Now you can automate these tasks, so employees can focus on higher value activities.
Highly flexible with different top modules
The highly flexible MiR200 autonomously transports up to 200 kg (440 lbs). It can be mounted with customized top modules such as bins, racks, lifts, conveyors or even a collaborative robot arm—whatever your application demands. Top modules are easy to change so the robot can be redeployed for different tasks.
Safe maneuvering and easy programming
The MiR200 robot safely maneuvers around people and obstacles, through doorways and in and out of elevators. You can download CAD files of the building directly to the robot, or program it with the simple, web-based interface that requires no prior programming experience. The robot's mission can be easily adapted using a smartphone, tablet or computer connected to the network.
No need to alter your facility
With built-in sensors and cameras and sophisticated software, the MiR200 can identify its surroundings and take the most efficient route to its destination, safely avoiding obstacles and people. Without the need to alter your facility with expensive, inflexible wires or sensors, the robot offers a fast return on investment, with payback in as little as a year.
MiR
250

™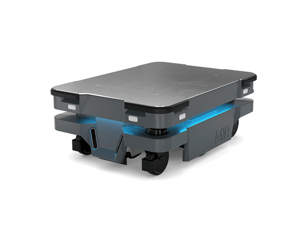 The MiR250 is a more flexible AMR that can work around the clock and is brilliantly simple to setup, for improved productivity. It has a footprint of 580 x 800 mm and a height of only 30 centimeters while still being able to move as much as 250 kg with a speed of 2 meters/second. This makes the AMR more agile than any other AMRs on the market and highly adaptable for challenging environments. Thanks to the small footprint, it can drive in spaces as narrow as 80 centimeters. So, doors and elevators that can be an obstacle for other mobile robots, are not a problem for the MiR250.
MiR
500

™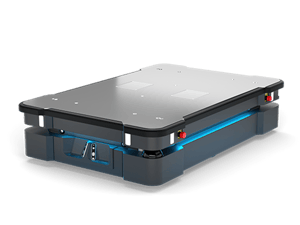 MiR500 is designed to automate the transportation of pallets and heavy loads across industries. With a payload of 500 kg, speed of 2 m/sec and a footprint of 1350x920 mm, MiR500 is a powerful, fast and robust collaborative, autonomous mobile robot. Download specifications.

Efficient transportation of payloads up to 500 kg with high speed

Optimizes your internal transportation of heavy loads and pallets and allows employees to focus on higher value activities

Eliminates material flow bottlenecks to increase productivity

Maneuvers safely and efficiently around people and obstacles in even highly dynamic environments

Requires no changes to existing facility

Extremely flexible and can be redeployed for different tasks with customized top modules

User-friendly interface that can be programmed without prior experience
MiR
600

™ & MiR

1350

™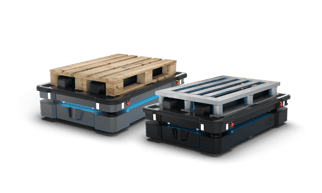 The MiR600 & MiR1350 set new standards for internal logistics with stronger and safer autonomous mobile robots (AMRs). Pick-up, transport and deliver pallets or other heavy loads automatically and efficiently with the heavy-duty robots. The robots are designed to comply with the highest available safety standards making them superior to other AMRs on the market. With increased ability to withstand dust particles and fluids, the MiR600 & MiR1350 are industrial, safer, and more reliable than any other AMRs, and they can be used in more environments.
Download specifications.

High payload enabling transportation of pallets and heavy goods

Robust design ensuring long lifetime and easy serviceability

Flexible and safe alternative to forklifts and trucks

Designed to comply with present safety standards

IP52 rated- improved ability to withstand dust and fluids
MiR
1000

™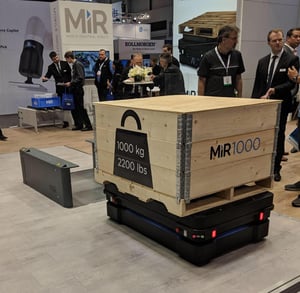 The MiR1000 is designed to automate and optimize the internal transportation of heavy duties and pallets. With a payload of 1000 kg, this is MiR's most powerful robot, and even in highly dynamic environments it can transport heavy loads without any exterior safety measures. It is equipped with the latest laser-scanner technology and that delivers a 360-degree visual for optimal safety. 3D cameras at the front have a range of 30 to 2,000 mm above floor level, and two sensors at each corner ensure that this robot can see pallets and other obstacles, which may normally be difficult for robots to see. When it meets an obstacle, it automatically navigates around it, and it is able to re-route to avoid stopping or delaying the delivery of materials. View brochure and specifications.
MiR
Hook

™

Increase the efficiency of internal transportation tasks with an extended-payload MiRHook™ mobile robot. MiRHook™ is a user-friendly and efficient mobile robot for fully automated pick-up and towing of carts in production, logistics and healthcare environments.
MiR250
Hook

™

The MiR250 Hook is a user-friendly and efficient mobile robot solution consisting of the MiR250 AMR and the MiR Hook 250 top module for fully automated pick-up and towing of carts in production, logistics and healthcare environments. The versatile solution can collect carts at different heights, and there is no need to modify your existing carts or your layout when you are implementing the MiR250 Hook.
MiR AI Camera
The MiR AI Camera is a static camera that enables the robots to detect and recognize different moving obstacles and react accordingly. For example, the robots will continue driving as usual if they detect a person but can park if they detect a forklift so the forklift can drive by. The robot can also predict blocked areas or highly trafficked areas in advance and reroute instead of entering the blocked area and then reroute. We are the first to introduce this technology to AMRs, and it will help companies optimize the internal transportation in highly trafficked areas where traffic jam with different moving objects might occur.
MiR
Fleet

™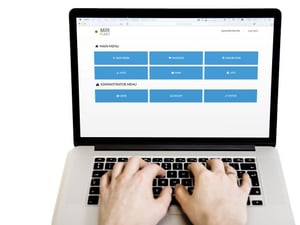 Optimize your internal transportation with a fleet of MiR robots and easy, centralized, web-based configuration. Eliminate bottlenecks and downtime with 24/7 mobile robot operation throughout your facility.
Centralized control of robots
MiRFleet™ gives you centralized control of robots throughout your facility from a single, user-friendly, web-based interface.
Easy programming of robots for multiple jobs
You can easily program and control a fleet of robots, including managing robots with different top modules, hooks or other accessories. Once programmed, the system automatically prioritizes and selects the robot best-suited for a job based on position and availability.
Driving Safety