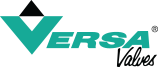 Versa's Commitment to Excellence
Versa's commitment to excellence began in 1948 when Carl Carlson designed our first directional control valve which we manufactured in a Brooklyn, NY garage. Quality quickly became the hallmark of their reputation. They continue this tradition of excellence in all facets of their business from product to customer service to versatility in design.
Versa offers a wide variety of directional control valves, comprised of 7 distinct valve series, constructed from 3 types of material – aluminum, brass, and stainless steel. These valves may be actuated by solenoid, pilot, manual, and mechanical, are manufactured to ISO 9001 standards, and many also meet SIL 3 capability.