The Swivellink® product was originally designed to provide an ergonomic and robust way to put operator start buttons onto custom built industrial machinery. The goal was to protect the expensive button and route the quick disconnect cable internally, because a simple wire break or damaged button can cause hours of costly production down time. We then added our camera adaptor plate to utilize the mounting flexibility to position cameras and lighting to get the best images possible. From there, we developed our sensor mounts for a quick and easy way to add part present sensors.
As vision systems became smaller and lighter it was clear that Swivellink® had to shrink to fit the needs. That is when we developed the XS series. This brought about a much smaller form factor while maintaining the rigidity required for a solid machine vision system. Our kits take all the guesswork out of selecting the various parts needed to fit the application. With vision systems, monitor mounting became a natural addition. Our latest designs include applications for use with robot end of arm tools and are an exciting addition to the product family.
Now distributed worldwide, the Swivellink® product line has been used for hundreds of different applications in all types of industries. Used for vision systems, cycle start buttons, sensors, lights, monitors, part fixtures, tool holsters, and robot applications. The possibilities are endless for your mounting solution.
KITS
MACHINE VISION KITS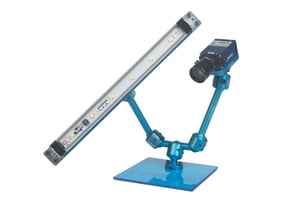 The simple way to securely mount your vision camera and lighting solution in one easy to order kit. We have kits for the most popular brands of cameras on the market today. Shown are examples of popular kits detailingeverything that is included. There are hundreds of kit configurations available to meet most needs.
OPERATOR KITS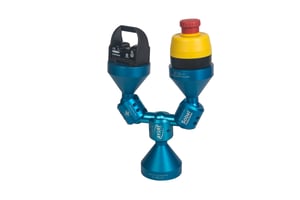 Operator kits add the ultimate in ergonomics for machine cycle start and emergency stop buttons, as well as indicator lights and interface monitors. The button base is sized to prevent damage to the expensive start button that is vital to operating your equipment. The internal cable routing eliminates cut or damaged wires. Operation indicating lights can now be repositioned as needed for better visibility. The monitor mounting kit is a robust way to mount any monitor with industry standard VESA mount patterns. There are hundreds of kit configurations available to meet most needs.
END OF ARM TOOLING KITS (EOAT)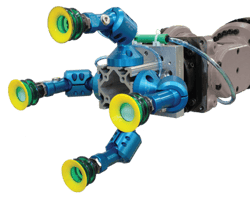 Imagine a simple solution to build a vacuum end of arm tool for an industrial robot to pick up virtually any shape or profile. This can be accomplished quickly and easily by parking the robot in a known pick position, adjusting the EOAT to fit the part, placing the cups where you want to grip, and tightening the knuckles to lock the cups in position. They work with centralized and decentralized vacuum solutions.
PRODUCTS
STANDARD SERIES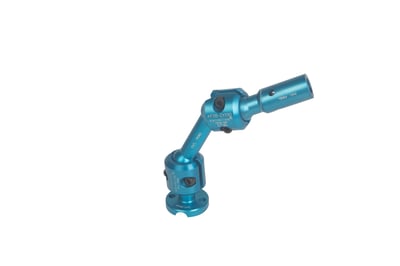 The standard series allows you to pick and choose solutions to everyday mounting needs. The ball and socket design allows for 3-dimensional positioning and mounting. Knuckles provide an extreme range of motion while maintaining the internal through feed capability without pinching a cable. Four socket head cap screws securely lock the position. Links are available in multiple lengths, while couplers mix and match between the standard and XS series. Combine bases, knuckles, and links to fit your specific requirements.
XS SERIES
The XS series has the same ball and socket design principle as the standard series on a smaller scale. Designed for smaller and lighter applications, these items are perfect for most machine vision cameras, lights, and sensors. Use the coupler to adapt the XS series ball to the standard series.
SPECIALTY SERIES
We offer many specialty products to suit industry needs. Products like our sensor threaded mounts make it easy to position and aim optic, inductive, or capacitive sensors with the added benefit of internal cable routing. These can be combined with various parts in standard and XS series to create endless possibilities and custom assemblies.
Interested in Swivellink?