Flexible module solutions developed and designed for MiR™ robots.
ROEQ designs, develops and manufactures standard robotic equipment that helps you get the most out of your MiR autonomous mobile robots. Whether you need to pick up /drop off carts, racks, pallets etc or transfer loads to conveyor stations, the ROEQ range with ROEQ Assist software provide safe, reliable solutions.
For a full, reliable and safe solution, your AMR must work seamlessly together with the surrounding equipment. Your MiR AMR can be programmed to safely move around the production or warehouse floor. However, in order to pick up, drop off or transfer loads to different stations, you will need a ROEQ top module + relevant equipment such as ROEQ carts, docking stations and optional accessories such as forks (for lifting pallets). The ROEQ software (ROEQ Assist) ensures a smooth integration with the MiR robot. It sets the robot footprint e.g. if a cart is attached or not, and chooses the right ROEQ safety zone – which is also provided by ROEQ to fit the solution. ROEQ Assist also generates MiR missions to get you up and running quickly. In this way ROEQ Robotic Equipment can unleash the full potential of your AMR.
ROEQ is part of the flourishing Danish robotics cluster in Odense. The company was founded in 2017 and aims to be the leading global manufacturer of well-engineered, easy-to-use standard mobile robotic equipment designed for autonomous mobile robots.
ROEQ Products
ROEQ offers a wide range of standard mobile robotic equipment to get the most out of MiR autonomous mobile robots.
ROEQ Top Modules
All ROEQ top modules come with ROEQ Assist software that includes setups tools, making it easy for you to quickly get your solution up and running. The software creates missions, sets the robot footprint, and choses the right ROEQ safety zones. ROEQ Assist is fully compatible with MiR software and ensures consistency throughout the installation.
There are three types: Roller Modules, Lifter Modules and Cart & Rack Modules
Use together with the ROEQ GuardCom, for extra safe and secure transfer of the goods from the top roller to the conveyor station, without relying on unstable Wi-Fi connections.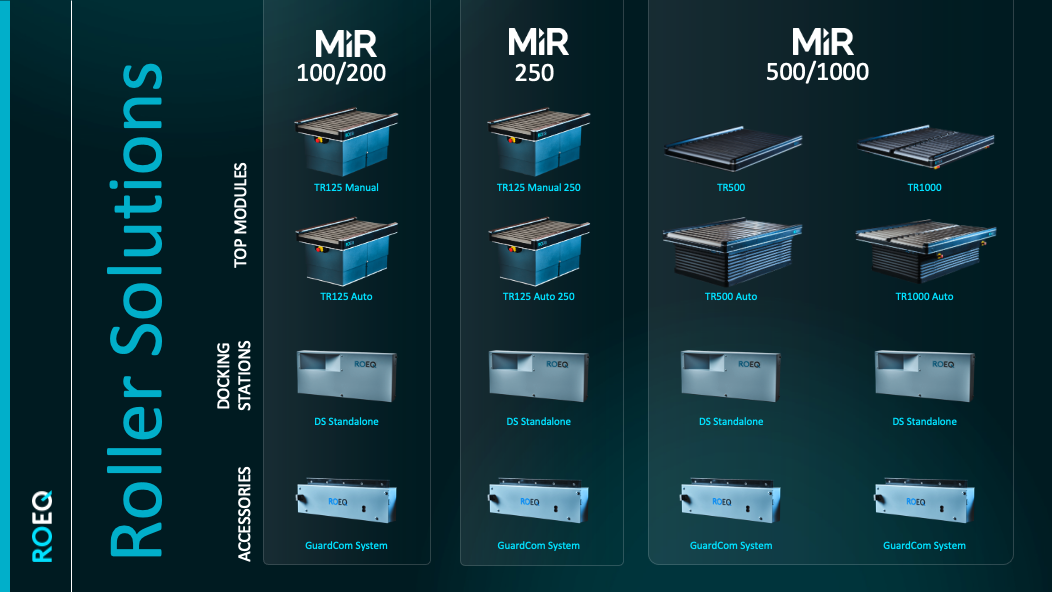 ROEQ Lifter Modules

– For pick up / drop off and transporting loads. Includes models for transporting carts and racks. The TML1000 has a greater stroke (240mm/ 9.4") for transferring between stations of differing heights.



ROEQ Cart & Rack Modules – For pick up / drop off and transporting ROEQ carts and racks. Patented locks secure carts during transport. See the ROEQ Carts & Racks to use with these top modules.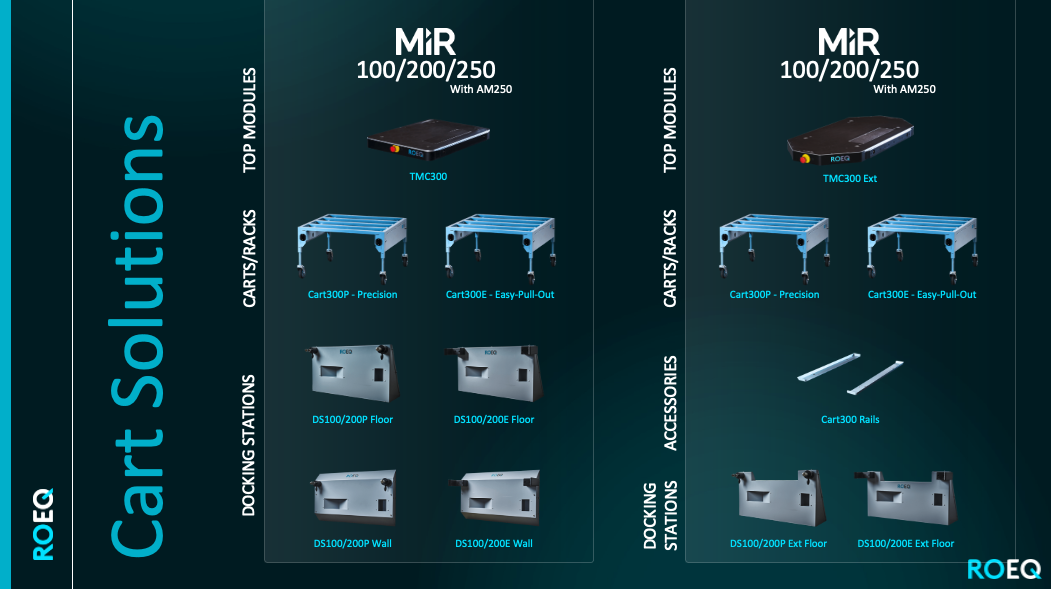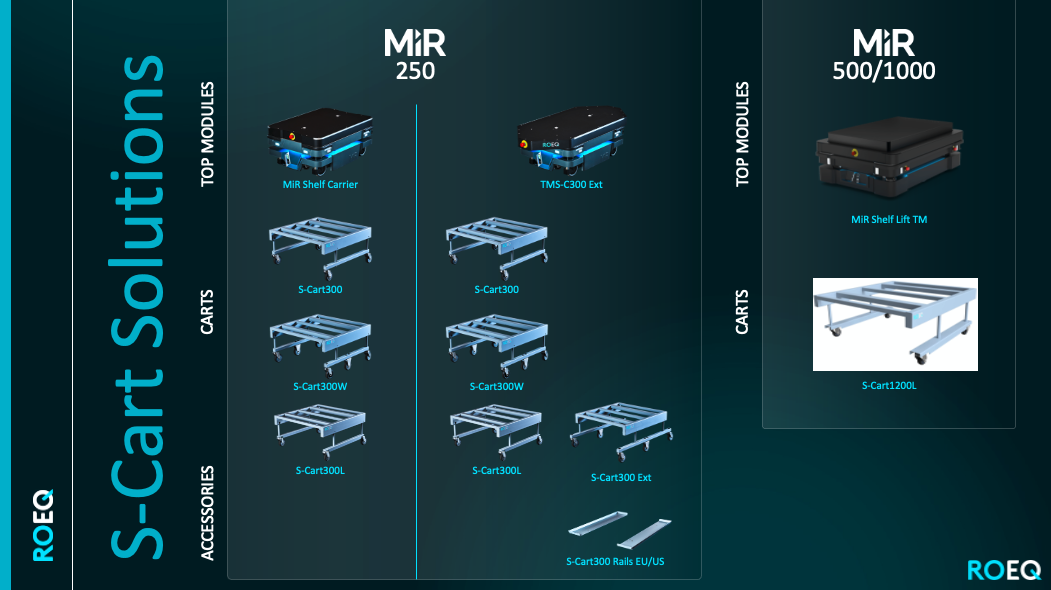 Carts and Racks
All ROEQ carts are designed with precision, use quality components and have been thoroughly tested. In addition, they all have attachment holes for attaching customized equipment and provide a flexible base for building your solution.
ROEQ carts and racks for the MiR100/200 lock to the top module and the docking station with a patented locking mechanism. The Precision locking model is ideal for fully automated set ups and ensures that the robot knows where the carts and racks are at all times. The Easy-Pull-Out is ideal for semi-automated set ups, as it can be easily handled by human operators.
The ROEQ S-Cart300 family is designed for free drop off and pick up - no docking station.
Docking Stations
ROEQ offer floor and wall-mounted docking stations for use with different cart models.
Accessories
Rails, forks, spring kits, locks, weights, etc are available for your ROEQ solution.
ROEQ COMPATIBILITY BY MiR ROBOT
MiR100
Top Modules: TMC300, TMC300 Ext, TMR150, TML150, TR125 Manual/Auto
MiR200
Top Modules: TMC300, TMC300 Ext, TMR150, TML150, TR125 Manual/Auto
MiR250
Top Modules: TMS-C300Ext, MiR Shelf Carrier 250 TM (from MiR), TR125 Manual 250, TR125 Auto 250, TML200,
MiR250 with AM250
Top Modules: TMC300, TMC300 Ext, TMR150
MiR500
Top Modules: TR500, TR1000, TR500 Auto, TR1000 Auto, TML1000
MiR1000
Top Modules: TR500, TR1000, TR500 Auto, TR1000 Auto, TML1000