Robotiq frees human hands from repetitive tasks.
They help manufacturers overcome their workforce challenges by enabling them to install robots on their own. They succeed with our robotic plug + play tools and the support of our automation experts community.
Robotiq is the humans behind the robots: an employee-owned business with a passionate team and an international partner network.
Interested in a Robotiq product?
PRODUCTS:
---
ADAPTIVE ROBOT GRIPPER


2 Finger Gripper
The Adaptive Gripper is made for real manufacturing; use the same Gripper model for all automation cells in your factory.
85 mm or 140 mm stroke
Eliminate custom-made end effectors and tools.
The 2-Finger Adaptive Gripper is compatible with all major industrial robots. We offer Plug + Play integration packages for Universal Robots.
---
ADAPTIVE ROBOT GRIPPER
3 Finger Gripper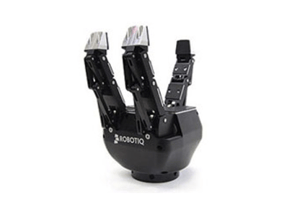 For maximum versatility and flexibility, the 3-Finger Gripper is the best option. Ideal for advanced manufacturing and advanced robotic research, the 3-Finger Gripper will pick up any object of any shape.
The 3-Finger Gripper is compatible with all industrial robots. We provide convenient ready-made integration packages for Universal Robots.
A ROS package is also available and supported. With Robotiq's 3-Finger Gripper, you'll focus on your research objective instead of struggling to integrate your end effector.
---
WRIST CAMERA:


Plug + Play Vision for Universal Robots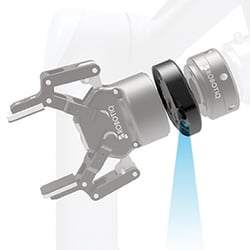 Robotiq's Camera brings Plug + Play vision for Universal Robots.
5-minute setup time

Simple object teaching interface

Autonomous location of objects on work surface

No coding required
The Camera is designed specifically for Universal Robots.
---
VACUUM GRIPPERS
The AIRPICK and the EPICK
These grippers are easy to program, are installed quickly with no training necessary. They also seamlessly integrate with the Robotiq Wrist Camera and FT300 Force Torque Sensor. They are the perfect collaborative robot solutions for applications such as packing and palletizing.
---
FORCE TORQUE SENSORS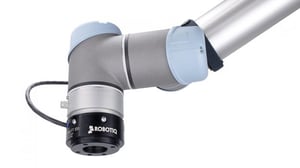 Robotiq's Force Torque Sensors give your robot the sense of touch. By installing a Force Torque Sensor on your robot, you'll be able to reliably perform the following tasks:
Precision part insertion

Assembly and fabrication

Product testing
Because it's a digital signal, the Force Torque Sensor is not affected by surrounding noise and provides a stable, precise measurement of force applied on the process or part.
---
FORCE COPILOT
Force Copilot is an intuitive software to operate Universal Robots e-Series' embedded force torque sensor. Force Copilot accelerates the programming of a whole host of applications, including part insertion and surface finding, among many others.
Its sensing functions increase flexibility and reliability in machine-tending, assembly, finishing, and pick-and-place applications. A suite of setup tools allows the user to hand-guide the robot on complex trajectories. The software makes it easy to place objects precisely in jigs, trays, and chucks, and it facilitates assembly applications through its alignment, indexing, and insertion functions. Finally, the intuitive interface unlocks finishing applications, with adjustable adaptive compliance and constant force for all robot axes.
---
SANDING KIT

The Sanding Kit transforms a multi-hour, multi-day programming job into a 5-minute task. It is the only hardware and software sanding solution for Universal Robots and it can sand wood, plastic, metal, fiberglass, solid surface and carbon fiber. The kit includes: Orbital Tool, Bracket, Sanding Media, Finishing Copilot, Quick Start Guide and Air control Accessories.

ROBOTIQ PALLETIZING SOLUTION

Quick to receive, quick to install, quick to set-up. Open the box and the hardware and software are already connected. Plan your set-up in just three steps directly on the robot control device. There's not even a need to design or program the connection between the robot controller and the 7th axis or box sensor! It can handle boxes up to 17.5 lbs and has max box throughput of 13 boxes/minute.

---
INSIGHTS:


Remote Monitoring
Insights software gives manufacturing engineers the right KPIs to improve their product quality and increase process efficiency. Automation engineers get the data to optimize robot performance by reducing cycle time and diagnosing failures. Production managers see the long term trend in robot performance to improve planning and overall productivity.
Insights Dashboard (see image below) also gives the operators real-time status and alerts to simplify the production.
Monitors robot in real-time

Measures robot performance over time from years to minutes

Gives access to your robot data anytime, anywhere

Diagnoses work cell with Digital IO states and external sensor readout

Compatible with Universal Robots as well as their new eSeries.