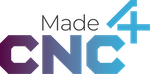 Safedoor

Safedoor is an innovative and safe solution to enabled robotized tending of CNC machines.

The SD100 Actuator is especially designed for this purpose, allowing fast, continuous operation of CNC machine doors. With travel speeds up to 500mm/s, minimum time is wasted between machining cycles. The intelligent Safedoor Controller monitors all aspects of the door motion, ensuring smooth and reliable operation.

The built-in safety features support safe human/machine collaboration, without the need for safety fencing. This makes Safedoor SD100 ideal for collaborative robot applications.

Safedoor SD100 kits are available for both single and double-door machines. The kits contain everything needed to install and operate the doors of a single- or double-door CNC machine.

Install the system using the included mounting brackets, run a quick configuration cycle and the system is ready to operate.
Compatible with Universal Robots.
Safedoor SD100 is a certified UR+ accessory for Universal Robots. The included URCap ensures seamless software integration with Universal Robots. Learn more about the UR+ certification here.