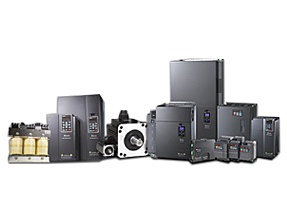 With solid technology and experience in drives, motion, control, power quality, industrial networks, sensors and robot solutions, Delta offers high performance, and high reliability products and solutions that fulfill a wide range of industrial customer needs. We also provide information management systems such as SCADA & EMS to construct complete, integrated solutions for future smart manufacturing.
As a leading industrial automation brand, Delta continuously develops innovative products, systems and solutions with quality, reliability and excellence to deliver our commitment of providing "Automation for a Changing World".
Products:


AC DRIVES
With modern power electronics and advanced microprocessor technology, Delta's AC Motor Drives are able to efficiently control motor speed, improve machine automation and save energy. Taking advantage of our strong position in power electronics technology, Delta's VFD Series of AC motor Drives has evolved rapidly. Each Drive series is designed to meet specific application needs. Our AC Drives accurately control speed and torque, smoothly handle an increased load, and provide numerous custom control and configuration operating modes. Our AC Motor Drive product line provides a full range of motor control technologies and is used throughout a wide range of industries, to enhance and improve machine automation.


MOTION
As the technology of microprocessor unit becomes more advanced and much further, the development and cost effectivity of permanent magnet manufacturing technology for servo motor and high power and high performance semiconductor power devices is improved continuously. Therefore, AC servo motor and AC servo control system have become the basic techniques for accomplishing automation control technology in current industry field.



CONTROL
Programmable logic controller (PLC) is a control system using electronic operations. Its easy storing procedures, handy extending principles, functions of sequential/position control, timed counting and input/output control are widely applied to the field of industrial automation control.



FIELD DEVICES
Temperature controller is a measurement device used on temperature control. Thermocouple-type and resistor-type temperature controllers measure temperature electronically, obtaining the temperature change from the sensor and sending the measured data to the electronic processor. The output device will then control the temperature variation within a specific range.


Interested in a Delta Products?