IAI offers a vast line of energy efficient ROBO Cylinder® Electric Linear Actuators, SCARA, Linear Actuators, Cartesian robots, Table-Top robots and Controllers that cover all the necessary links in order to operate seamlessly with your vision from software to robots. IAI's commitment to efficient products positively impacts all of their customers by offering value to business automation, reducing running costs and man-hours spent to set up and maintain the production line. From IAI's easy to use software to complete ROBO Cylinder automation solutions, IAI provides you with the tools necessary to scale your business.
ELECYLINDER® Series
Mini Rod, Mini Table, High Rigidity Slider, Radial Cylinder, and Waterproof type.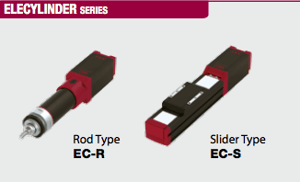 Features:
Simple Operation without Programming
Easily Adjust AVD Settings Individually
Easily Repairable in the Event of a Breakdown
Easily Reduce Cycle Time
Long Service Life
Reduced Electricity Usage
Manuals and CAD
RCP6 Series, the Next Generation ROBO Cylinder

Rod Type, Radial Cylinder Type, Wide Type, Table Type, Slider Type, Cleanroom Slider Type, Cleanroom Wide Slider Type, Dust/ Splash-proof Rod Type, Dust/ Splash-proof Radial Cylinder, Dust/ Splash-proof Wide Radial Cylinder.
Features:
Battery-less Absolute Encoder
Improved positioning repeatability
PowerCON compatible
Built-in Controller (RCP6S) can be selected for every type
Cleanroom and Dust/Splash-Proof specification series available
Mini ROBO Cylinders
Next-generation electric actuators, solutions for space constrained applications
Space-saving
Systems that could only use air cylinders due to sizing constraints can now use Mini ROBO Cylinders to improve performance.
Shaped and handled easily like air cylinders
Users who are comfortable with using air cylinder can switch to Mini ROBO Cylinders effortlessly.
Wide variations
Variations include slider type, rod type, table top and linear servo type.
ROBO Cylinders
The affordable high-precision electric actuators reduce your running costs to 1/5 of a pneumatic system. ROBO Cylinders are high-performance electric actuators with a ball screw or belt, linear guide, and AC servo motor or DC servo/stepper motor. These next-generation actuators offer multi-point positioning capability and speed/acceleration change function unseen with air cylinders.
Single Axis Robot
Intelligent actuators with high-speed, high-transfer capabilities.
TTA Table-top Robot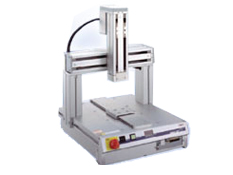 Features:
Load Capacity, maximum speed is greatly improved
Number of programs, number of positions significantly up
To 3 times compared to conventional I/O input and output points
Variations expansion
Bending rigidity up the Y-Axis base mounting bracket integral structure
X-Axis labyrinth structure to suppress the foreign matter from entering
Click Here to Learn more about the TTA Robot and to download the catalog.
IX SCARA Series Robots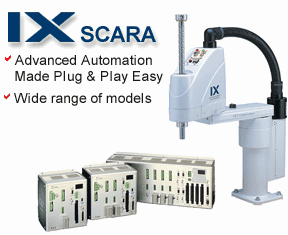 Off-the-shelf SCARA robots for every application
Cleanroom
Wall & ceiling mount
Water resistant
High speed
Longer z-axis
IX SCARA (Selective Compliant Assembly Robot Arm) robots are ideal for high speed, precision operations such as sealing, dispensing, parts insertion, assembly, and more.
Why choose IAI?
Complete System Solutions
Instead of building a robotics system from scratch, design engineers can purchase fully-functional units from IAI and begin production sooner.
Easy Integration
Our straightforward programming language and pre-formatted products make it easy to integrate IAI products with other components. You'll be up and running in no time.
Excellent Support
We have teams of expert technicians standing by to answer your questions and solve your problems. Spare parts are stocked in both the Torrance, CA and Itasca, IL offices and are available for immediate shipment. You can even download mechanical drawings from this Web site into your CAD designs.
Fast Delivery
Most parts and miscellaneous items are available for immediate shipment. Delivery of standard products is within four to six weeks.
Cost
Buying off-the-shelf Intelligent Actuator products is more cost-effective than building your own, and puts your project into production sooner.
Value
Our products provide the best price-to-quality value on the market.