TTA Robots Series
Improved Tabletop Robot for Cell Production Applications, Featuring Significantly Higher Payload, Maximum Speed and Rigidity!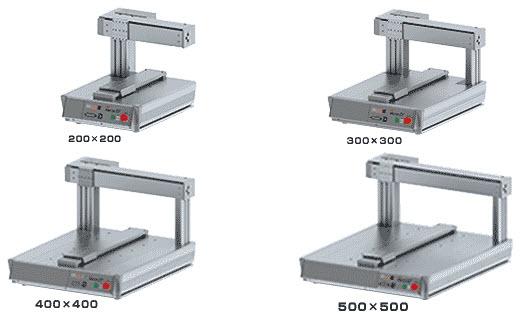 Features
Significantly higher payload & maximum speed
Stores much more programs & positions

The larger memory lets you store much more programs and positions.
The additional data recovery function makes sure the original data can be restored should writing to a FLASH drive fails due to a power failure.

3 Times as many I/O Points as conventional models

When the standard I/O slot isn't enough, up to two additional expansion I/O slots can be installed

More Variations

Four operating ranges are available to choose from
The 3-axis specification is available in two types of Z-axis strokes:
100mm and 150mm.
You can select a model ideal for the size of your work part.
Additional options let you change the Y-axis height and position.

Greater bending rigidity is achieved by integrating the structure of the Y-axis base with the mounting bracket
Labyrinth structure to suppress intrusion of foreign matter into X-axis

The X-axis opening is structured as a labyrinth in order to make it difficult for foreign matter dropping onto the actuator (such as screws, molten metal, dust, etc.) to enter the X-axis. This expands the types of work environment supported.
Fill out form below to download TTA Series Catalog