AutoGuide Mobile Robots offers high payload autonomous mobile robots (AMRs).
Max N10 Pallet Stacker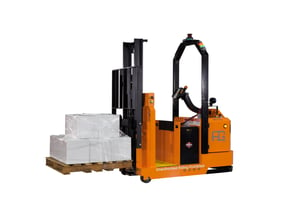 The Max N10 Pallet Stacker is an automated counterbalanced lift truck that can automatically pick and place pallets or racks from the floor level, trailer decks, conveyors, or racks up to 5 feet high. Standard payload capacity is 1,770 lbs. (800 kg), with a high capacity version for up to 2,650 lbs. (1,200 kg)
With its smart pallet finding capability, the Max N10 pallet Stacker can pick pallets that have been displaced from their expected location. The vehicle sensors will identify the pallet, its location and orientation, and then dynamically re-plan a travel path for a successful pick. It can even recognize pick a desired pallet from a stack of pallets.
Download Technical Specifications
Max N10 Natural Feature Tugger
The MAX N10 moves loads up to 10,000 pounds with no tape, no RFID tags, no mirrors nor reflectors. It is designed with a modular chassis and control system that allows it to be converted from a tugger to a fork lift vehicle, a unit-load flat-deck or conveyor deck. It can also be fitted with custom trail frames. Each version is available with a driver platform, a walkie tiller, a no-ride/no tiller, or no-ride/no tiller option with a wireless remote control for manual operations.
Download Technical Specifications
MYLO Mobile Robot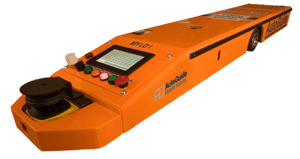 Engineered to tunnel under load handling frames, AutoGuide's low profile Mobile Robots glide smoothly under a cart and automatically hitch via a programmable pin assembly. They then autonomously transport the load and unhitch before moving on to the next target. These compact Mobile Robots use magnetic tape guidance to transport loads up to 4,400 pounds. They move load handling frames customized with scissor lift tables, turntables, tilt tables and roller conveyor that enhance ergonomics and increase productivity.
Download Technical Specifications